Track Sawing London is used for concrete cutting. It's a quick & precise option for stitch drilling and cutting out openings in vertical concrete walls. This is the favoured method for cutting window & door openings in walls & also floors.
Over 20 Years of Managerial Experience
Highly Competitive Prices
100% Satisfaction Guaranteed
Contact Us for a Free Quote
Very professional and knowledgeable team. Helped us on a tricky site and were absolutely great. Would definitely use again.
sean fitzgerald
10/10/2022
Best contractors I've had on site, I've used Bailey and his guys on a number of jobs and every time they deliver on time and always leave my sites in perfect condition.
Really nice guys. They did a great job and left the site tidy. Will use again in the future I'm sure.
Used on numerous jobs even undershirt notice very Professional service left my site clean and tidy unlike no other drilling or sawing company I've used before big thank you to Bailey and the Bc diamond drilling team always a pleasure look forward to using you guys again
I have used Bailey on numerous jobs over the past few years . He has always taken care of anything I have thrown at him in an amazing time scale . I would have no hesitation in recommending him .
Bailey and his team were ready and available at a moments notice to attend my job in central London over the weekend. The job was not straight-forward but they worked around the problems and successfully core drilled out all holes as required. Would definitely recommend and will keep their details for future works.
10/10 service from BC Diamond Drilling. Highly recommend. Really professional, polite & friendly.
Track Sawing / concrete cutting is a quick & precise option for stitch drilling and cutting out openings in vertical concrete walls. It is the favoured method for cutting window & door openings in walls & also floors.
CUTTING & SAWING CONCRETE, BRICKWORK, MASONRY & SANDSTONE
Ideal for creating openings in walls for doorways & windows, reducing wall heights & creating openings for lift shafts.
Cutting & sawing option for reinforced concrete, brickwork, masonry & sandstone
It is a good option for working in areas with limited space.
Cutting depths of up to 1000mm can be achieved
The ability to operate the plant remotely is beneficial from a Health & Safety point of view
Using 3-phase electrical power ensures gases & Fumes are not emitted while creating precise cuts.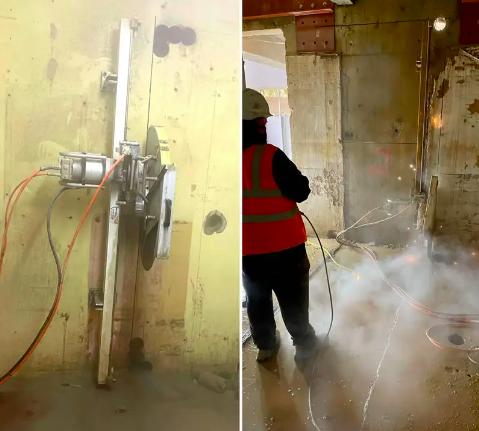 Diamond Track Sawing Redefined!
This technique is also regularly employed for cutting floors to create access to stairwells, and corridors & to fix staircases. The use of special mountings can be employed in situations where the width of the staircase needs to be reduced.
In addition through the use of special mountings, cutting on angles of up to 45 degrees is now an option. This is an approved method of reducing costs as part of controlled demolition service.
Where we routinely provide this service for both commercial & domestic clients across the UK it's a technique for which we have built up an extensive body of experience over an extended period of time.
How do Track Saws work to Achieve the Required Cutting Depth?
 The track saws have their blade spinning in the head which is mounted on the track system from which it gets its name. Unlike other concrete cutting techniques and tools, the track along which the saw travels is in turn anchored onto the surface that's being cut by the saw blade.
During the diamond tracking sawing process, the blade is plunged into the heavily steel reinforced concrete in a series of passes for forming angled cuts until the required cut depth has been achieved. Thus, it creates really smooth cuts compared to other demolition separation cutting applications.
SERVICING THE SOUTH EAST, LONDON & BEYOND
Our track sawing contractor services, wire sawing and specialist cutting services are provided across London & the whole of the South East including Sussex, Kent & Surrey & beyond inc. Hastings, Bexhill, Eastbourne & Brighton.