Brokk Demolition London is typically required in situations where heavy-duty demolition or construction work needs to be carried out in confined spaces, where traditional heavy equipment cannot be used or where manual labour is too dangerous or time-consuming.
Over 20 Years of Managerial Experience
Highly Competitive Prices
100% Satisfaction Guaranteed
Contact Us for a Free Quote
Very professional and knowledgeable team. Helped us on a tricky site and were absolutely great. Would definitely use again.
sean fitzgerald
10/10/2022
Best contractors I've had on site, I've used Bailey and his guys on a number of jobs and every time they deliver on time and always leave my sites in perfect condition.
Really nice guys. They did a great job and left the site tidy. Will use again in the future I'm sure.
Used on numerous jobs even undershirt notice very Professional service left my site clean and tidy unlike no other drilling or sawing company I've used before big thank you to Bailey and the Bc diamond drilling team always a pleasure look forward to using you guys again
I have used Bailey on numerous jobs over the past few years . He has always taken care of anything I have thrown at him in an amazing time scale . I would have no hesitation in recommending him .
Bailey and his team were ready and available at a moments notice to attend my job in central London over the weekend. The job was not straight-forward but they worked around the problems and successfully core drilled out all holes as required. Would definitely recommend and will keep their details for future works.
10/10 service from BC Diamond Drilling. Highly recommend. Really professional, polite & friendly.
Why Choose Brokk Demolition London?
Brokk Demolition London allows us to undertake effective demolition projects using the smartest approach and equipment. With an emphasis on efficiency without the expense of quality, BC Diamond Drilling & Sawing Ltd is able to offer incredibly competitive prices.
Using remote-controlled demolition robots allows us to break up concrete, asphalt, masonry and brickwork while providing Brokk Demolition Services in the most cost-effective and safest way possible.
Brokk machines are not only very powerful, but a Brokk robotic demolition robot offers a wide range of attachments that provide enormous flexibility to complete a wide variety demolition projects.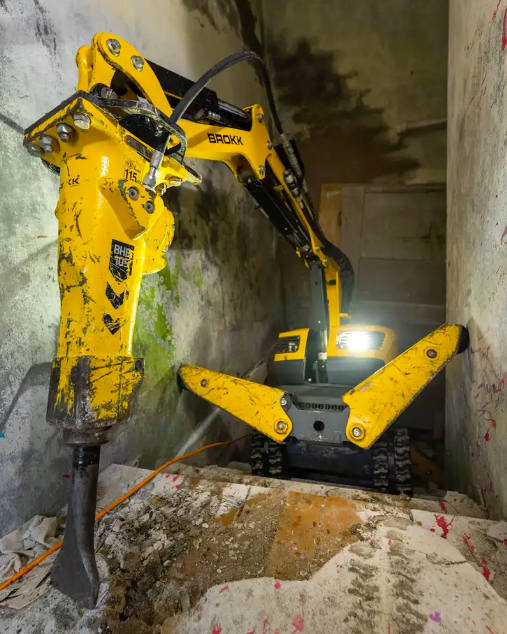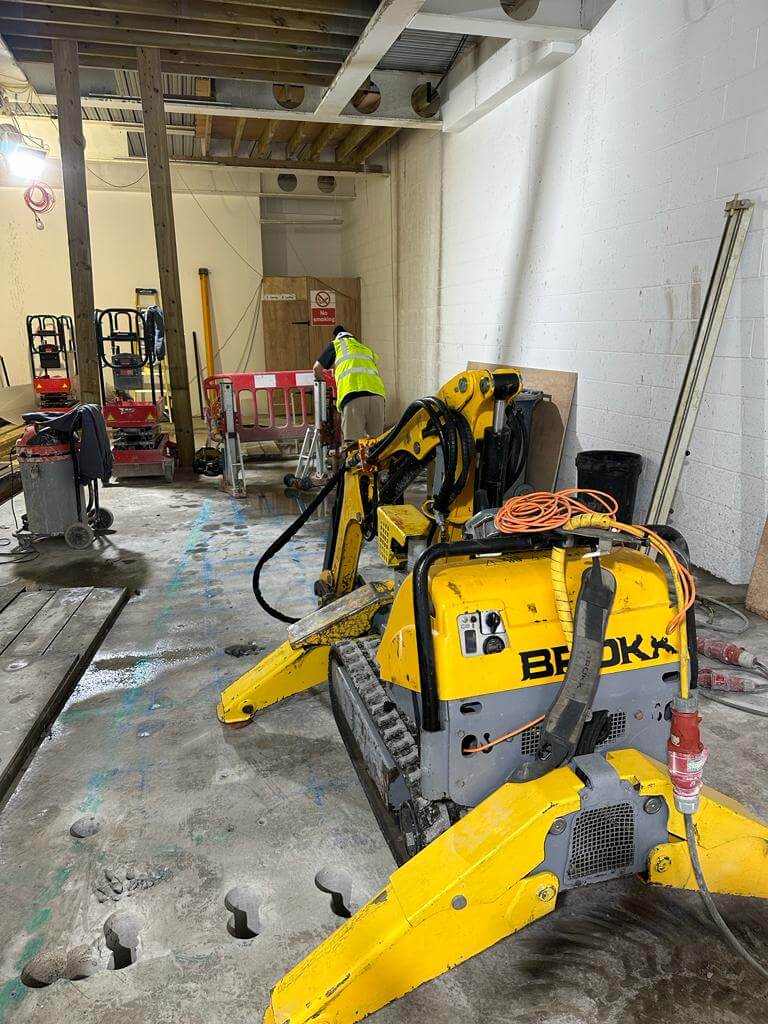 Brokk Demolition — Switch to Intelligent Demolition!
The demolition industry robot range continues to expand and evolve in terms of performance-enhancing features and range. Especially, the Brokk 200, which is an industry-leading demolishing robot with a three-part arm system.
As a result, irrespective of the challenges of your demolition project, utilise our Brokk Demolition Services to complete your demolition project, whether in London or Hastings, on schedule and budget, and in the safest manner.
Why Our Brokk Demolition Services?
At BC Diamond Drilling & Sawing Ltd, our highly trained and experienced team of operators are able to change tools on Brokk machines in a matter of minutes, which allows us to crack on with the project at hand with minimum delay.
Brokk's radio link system is used in heavy industry because of its reliability. This enables a very long reach of up to 300 metres, which offers a great level of flexibility, and most importantly, safety when undertaking demolition.
And, with a power cable of up to 100 metres, it allows the machine to be operated widely across a demolition site without a problem and to extremely good effect.
SERVICING THE SOUTH EAST, LONDON & BEYOND
Our Brokk demolition contractor services are provided to clients across London & the whole of the South East including Sussex, Kent & Surrey & beyond inc. Hastings, Bexhill, Eastbourne & Brighton. For further information call 07399 713 220